"Ross' groove-based style has influenced a generation of…players."
-Teja Gerken, Guitar Player magazine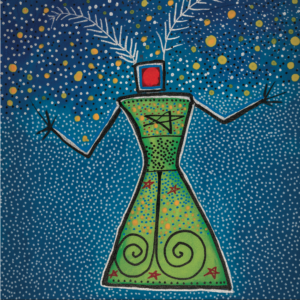 Don Ross has just released new solo album, WATER. It is his 18th solo album, and his 21st including collaborations. For this new recording, Don decided to launch a Kickstarter fundraising campaign and do the release 100% independently. He managed to raise his financial goal in 28 hours, and was able to make many musical concepts come true as a result. The album features collaborations with legendary guitarist/songwriter Bruce Cockburn, fretless bass wizard Michael Manring, Washington State-based guitarist/composer Sean Hall, singer/guitarist Brooke Miller, Prince Edward Island-based quintet The Atlantic String Machine, and even one piece with the 70-piece City of Prague Philharmonic Orchestra. The album features cover art by luminary Mi'kmaw visual artist Alan Syliboy of Millbrook First Nation in Nova Scotia.
Don Ross was born and raised in Montreal and has lived in various parts of Canada over the course of his life. The son of a Mi'kmaw Indigenous mother and a Scottish immigrant father, he graduated with a Bachelor of Fine Arts (Music) degree from Toronto's York University and started working full-time as a musician in 1988. That year he won the US National Fingerpick Guitar Championship for the first time, and also played with his quartet Eye Music at the Montreux Jazz Festival in Switzerland.
Signing a solo recording contract with Duke Street Records that same year, he went on to release two CDs of solo guitar music for the label in 1989 and 1990, as well as a third CD for the label featuring vocal music, full band arrangements, and solo guitar tunes in 1993.
Concentrating his touring primarily in Canada at the start of his career, Don went on to sign with Sony Music/Columbia Records (Canada) in 1994, releasing three CDs for the label. US-based Narada Records also licensed two pieces for the Masters of Acoustic Guitar CD in 1997. Meanwhile, Don won the US National Fingerpick Guitar Championship for the second time in 1996. To this day, he is still the competition's only two-time winner. Don began touring more internationally at this point in his career, concentrating especially on Germany and other central European countries.
Signing directly with Narada in 1998, Don went on to release three CDs for the label. Passion Session, released in 1999, has gone on to be considered one of the high water marks in the world of modern solo guitar, with several of the tunes (notably "Michael, Michael, Michael," "The First Ride," "Tight Trite Night" and his arrangement of David Essig's "Berkley Springs") now considered more or less standard repertoire in the genre.
Don released Huron Street in 2001, an album of reinterpretations of earlier work never previously released internationally. It went on to spend two weeks in the Billboard Top Ten's "New Age" chart. In 2003 Don's last recording for Narada, Robot Monster, explored possibilities of blending solo guitar with electronic music, especially on collaborations with Berlin-based composer Christoph Bendel.
Don's period recording for Narada was fruitful in terms of opening up the possibilities for more international touring, and he started playing regularly in Japan, Taiwan, the USA, and multiple European countries. By this time, though, illegal online file sharing had decimated the world of recorded music, and many record labels, Narada included, began to close their doors. In 2005, Don entered into negotiations with the internet-based label startup CandyRat Records, and became the company's first signed artist. Together they released Don's next recording, Music for Vacuuming, late that year. Since then, Don has released multiple CDs for the label (including collaborative titles with guitarists Andy McKee and Calum Graham) and two live concert DVDs. In addition, Don has released three other albums independently, Live in Your Head (2006), Any Colour (2009) and Don Ross Louder Than Usual (2019). Over the course of that time, Don's touring base has gone on to include trips to Australia, India, Russia, China, South Korea, and a dozen European countries.
During the Covid-19 pandemic, Don went back to university, completing a Master of Arts degree in Orchestration through the University of Chichester (UK) and ThinkSpace Education, and graduating in early 2021. He immediately started working extensively in the world of scoring orchestral and electronic music for video games, films and television.
In addition to his solo performances and recordings, Don also heads his quartet Don Ross Louder Than Usual, which focusses on his more jazz-leaning repertoire.
In 2021, Don won the prestigious Walter Carsen Prize for Excellence in the Performing Arts, administered by the Canada Council for the Arts.
Don currently lives in Charlottetown, Prince Edward Island, Canada.
Discography
Full-length solo albums
Bearing Straight, Duke Street Records 1989
Don Ross, Duke Street Records 1990
Three Hands, Duke Street Records 1993
This Dragon Won't Sleep, Sony Music/Columbia 1995
Wintertide, Sony Music/Columbia 1996
Loaded. Leather. Moonroof., Sony Music/Columbia 1997
Passion Session, Narada 1999
Huron Street, Narada 2001
Robot Monster, Narada 2003
Music for Vacuuming, CandyRat 2005
Live in Your Head, Goby Fish Music 2006
Breakfast for Dogs!, CandyRat 2010
Upright and Locked Position, CandyRat 2012
PS 15, CandyRat 2014
A Million Brazilian Civilians, CandyRat 2017
Water, Goby Fish Music 2023
Singles
"Magpies," Goby Fish Music 2023
Collaborative recordings
Kehewin (independent cassette release, with Kelly McGowan) 1986
Shorelines (independent cassette release, with Eye Music) 1988
Circle of Stone (with Harbord Trio), Familiar Music 1990
the thing that came from somewhere (with Andy McKee), CandyRat 2008
12:34 (with Calum Graham), CandyRat 2013
Don Ross Louder Than Usual, Goby Fish Music 2019
Montreux 1988 (with Eye Music), Goby Fish Music 2023
DVDs
Don Ross Live, CandyRat 2006
Live in Toronto, CandyRat 2009
.